Why Choose Our Rockdoor Composite Doors?
26th February 2014 Comments

RockDoor Composite Doors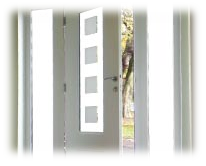 Here at Select Products we provide the leading name in composite doors: Rockdoor. Rockdoor composite doors combine a wood grain style with the practicality and security offered by modern technology.
Rockdoor composite doors are designed to provide the very best in efficiency, durability and security.
Rockdoor composite doors are renowned for their high quality and reliability. These doors are stringently tested for strength, security and durability.
Our composite doors go above and beyond by exceeding industry standards. If you are after a door which offers great peace of mind, looks no further than the Composite Rockdoor.
Why You Should Choose Our Composite Doors
All our composite Rockdoors have been manufactured with millimetre precision.  A Rockdoor composite doors are designed for a perfect fit. Their insulating foam core makes them highly efficient. These thermally efficient doors are fully heat proof.
Appearance
The Rockdoor composite door will its stylish and realistic wood appearance year after year.  You can choose from a range of exciting colours including chartwell green.
The Rockdoor composite door will complement a wide range of properties.
If you want to match a different colour to the inside of your property then these doors allow for dual colours. Choose a colour for the inside as well as the outside of your home.
Heat Shield Technology
All Rockdoor coloured doors are protected with heat shield technology. An innovative coating is applied to the door which works to lower the surface temperature. UV rays are reflected away from your door, preventing any cracking, bending or warping.
Security
Our rockdoor composite doors are fitted with state of the art locking systems. Their multi-point locking system is reinforced with inner and outer frames for higher security.
These composite doors will remain stable despite the changing of seasons, retaining their incredible strength. This is why they make fantastic front doors.
Tailored For Different Budgets
The Rockdoor range is made for a variety of different budgets. The Rockdoor series is competitively priced and is available in the Ultimate collection. The Ultimate collection caters for different property types. To see a description of each series click here to download the Rockdoor brochure.
[schema type="product" url="https://www.composite-doors-leeds.co.uk/why-choose-our-rockdoor-composite-doors/" name="Composite Doors" description="Quality composite doors in Leeds and West Yorkshire." brand="Rockdoor composite doors" single_rating="5.0″ agg_rating="7″ condition="New" ]