What Are Composite Doors Made From?
8th September 2021 Comments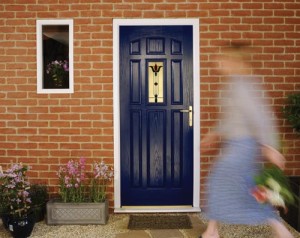 If you are looking at a composite door for your Leeds home, they are a cost effective option that keeps your property warm and comfortable. Their sturdy frame provides a thermal barrier and a high sense of security. They are also an attractive viewpoint for a prospective buyer because a front door is the first thing they see.
But you might be wondering what a composite door is made from. How does it get its robust look? At Select Products, we use Rockdoor to supply our composite doors. They only use the best materials!
In the article below, we will take an in depth look at what they are made from.
'Composite Door' is a phrase that is used so often that it's used to generally describe entrance doors. Did you know that composite doors are made from a wide range of materials? Rockdoor only settles for the best materials.
A uPVC door is made from plastic; however, a composite door is created from 17 different layers of engineered timber, durable uPVC, and laminated door skin. This creates a thick durable layer that keeps intruders out, adding security to your home. It is also made from GRP, which stands for Glass Reinforced Plastic. This is a very strong, versatile, and light material. It is made from fibres which are woven together to create a flexible fabric. It is a moulded product, so it needs to be placed in or around the item it is required to take. This makes your door much more flexible and easier to manoeuvre.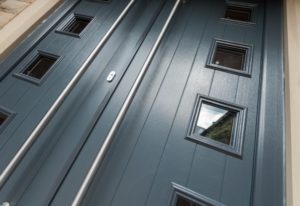 Each material is chosen for its specific properties, and they are fused together to create one of the strongest materials on the market. A composite door is made from a range of materials pressed and glued together under high pressure conditions. Ideal for high pressure situations.
A composite door does not use timber because it rots and swells over time, especially in the rainy weather. But Rockdoor uses a high density core that is 60% stronger than standard composite doors. We use this in all our front doors, back doors, French doors, and stable doors to keep it consistent, ensuring you get the best protection available.
The thick uPVC skin is a massive advantage over uPVC doors because it helps create an extra layer of coating along with a high density polyurethane core. This is a cost effective material bult specifically for composite doors. The structural properties of urethane do not work for demanding applications; however, it is useful for composite doors because it provides thickness and creates section forms for their insulating qualities and flotation. This is excellent for your Leeds home because it will keep you thermally insulated in winter and keep your home warm and comfortable.
There are some key components that go into a Rockdoor composite door. These include GRP, and PVC which is used for the door sash, inner frame, and outer frame with a solid core. The frame comes together to create a solid performance.  PVC stands for polyvinyl chloride, and it is a secure thermoplastic that is durable and long lasting.
A Rockdoor is so much stronger than its competitors because every door features S-Glaze technology. This stands for Security Glazing, which is where the glass is manufactured as part of the door itself and locked in for life rather than being clipped in by beads. This ensures exceptional thermal efficiency but also it mean the glass can't be removed easily by burglars.
We choose Rockdoor because their designs stand apart from most doors. Rockdoor provides a made to measure fit, ensuring it's the perfect strength for the aperture it's used for. When a GRP door is strengthened with timber is cut down, its security is weakened and makes it more vulnerable to burglary.
Rockdoor's ultimate range is also weatherproof which protects it from harsh weather conditions such as wind and rain. This means the timber won't crack or twist, while the door won't scratch or fade either. Their doors also benefit from steel mesh which makes the door up to 4 times stronger. You will do well to find a door that's stronger than a Rockdoor. It's a door that has been perfected for over 20 years, so you are sure to get a high quality product.
Rockdoor's material is so strong and durable that it's used in a range of Formula 1 cars and military equipment because if its strength and security. This helps to strengthen the impact of composite doors, leaving you with a door that will provide you with ultimate protection.
At Select Products, we are proud to offer composite doors in Leeds. We work with Rockdoor to ensure that you are getting the highest quality door installed. As your local installer, we aim to offer friendly, professional service with short wait times and competitive prices.
Use our online door designer it's easy to explore the full range of doors and customisable options. Whatever you decide, we can provide an instant online quote for your design too.
We're also happy to help with any queries you might have. You can fill in our contact form or call us directly on 0113 257 8933 today to find out more!