Composite Door Prices Harrogate
31st January 2017 Comments

Composite Door Prices to Suit Your Harrogate Home Improvements Budget
When looking for new doors, composite doors are a superb choice as they not only come at a range of prices to suit all budgets, but they also offer long term savings too.
Composite door prices are exceptional when you choose Select Products for your Harrogate property upgrades. They are tailored to your choices and specifications, meaning you can get the perfect match for your tastes and budget.
We offer a variety of composite doors, in a range of styles too, so that every Harrogate home can benefit from these superior double glazed doors.
Our guide to composite door prices is here to help you find the perfect match for your Harrogate home improvements.

Composite Door Prices – The Long Term Benefits
With composite door prices, you are making an investment for your Harrogate home. Not only are our composite doors available in a variety of superb prices, but they are also cost-effective, giving you long term benefits.
Your home will have added kerb appeal with composite doors, ensuring it is more pleasing to visitors, and should you ever wish to sell it, potential buyers too.
In addition to this, it will be more energy-efficient, as the clever design of composite doors, the solid core and robust skin, creates excellent insulation. This works to ensure that heat loss is minimised and cold air can't enter your home, keeping it warmer for longer.
A warmer home will result in you needing to use less heating, and as such, making savings on your energy bills.
Your home will also be quieter and a more relaxing space with a composite door, as this insulation, also makes these doors fantastic for soundproofing your Harrogate home. With a more peaceful environment, your property will be improved so much and you will be able to enjoy being at home far more.
Composite Door Prices – The Options Available
We work with three different composite doors to ensure our customers can achieve the right look, performance and price to make your new doors perfect for your Harrogate home.
We've summarised each option below to give you inspiration.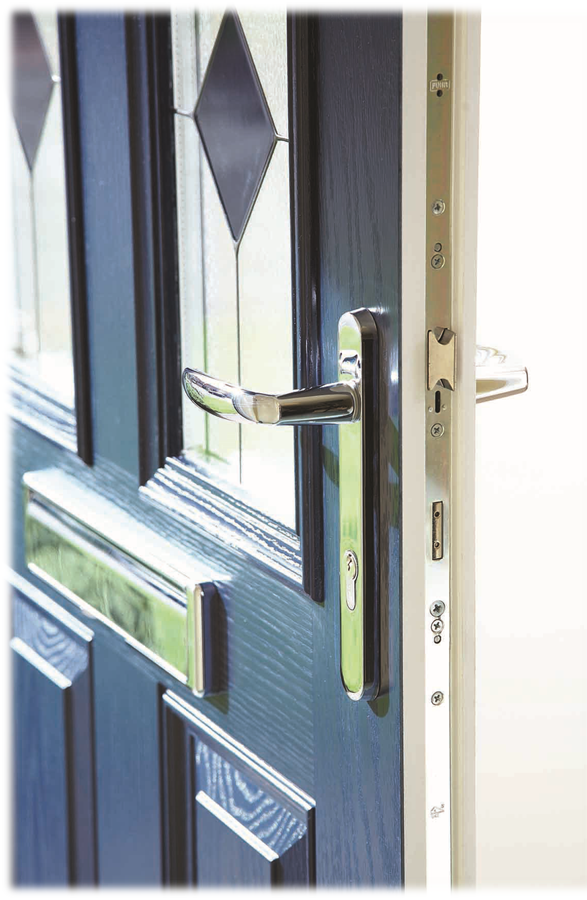 DoorStop Composite Doors
Our DoorStop composite doors are a very popular option. They come in 23 different designs, ensuring that whatever style of property you have, we have a door to compliment it and enhance its character.
As the leading manufacturer of composite doors in the UK, DoorStop is renowned for the exceptional standards they achieve with their composite door range.
Composite doors from this range offer your Harrogate home incredible security performance, as well as fantastic durability. No matter what the weather throws at them, and no matter how determined potential intruders are, the DoorStop collection will protect your Harrogate home.
Rockdoor Composite Doors
The Rockdoor collection of composite doors is so varied in styles, that you can have matching doors throughout your Harrogate home.
These doors will last for many years and even come with HeatShield technology, to ensure that they never get too hot and are protected from the blistering summer sun.
Rockdoor composite door prices offer options for every budget.
These composite doors can be tailored to you with the Ultimate series. Our Ultimate series is manufactured to outstanding quality standards.
The styles available are: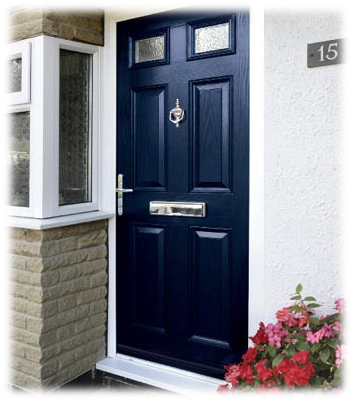 Consort Composite Doors
For cost-effective composite doors prices in Harrogate, the Consort collection offers fantastic value.
They offer incredible protection for your Harrogate home and family and they feature the latest high security technology.
Consort composite doors are also triple-sealed for ultimate protection from the elements. They will never warp or crack, fade or blister, no matter what the weather throws at them.
This collection of composite doors comes with a range of tailoring options so that you can achieve a look that enhances the aesthetics of your home and reflects your personal tastes.
Composite Door Prices in Harrogate – Get Your Quote!
Finding the right composite door prices for your Harrogate home improvements is so easy. You can visit our online quote generator, create the exact door you want and get a quote tailored to your specifications. It's simple to use and you can change your options as many times as you like until you find the perfect combination.
We also have a highly trained team on hand to give you advice and guidance on choosing the right composite doors for your home. Get in touch and they will talk you through the options to find you the best composite door prices to meet your needs.